This is a fun little quiz to take though I was hoping I was Ariel. I LOVE her, and The Little Mermaid movie was my absolute favorite as a little girl. But hey a slave woman is cool too, who wouldn't aspire to do all those chores... hey wait a minute, that IS me. Do the dishes Natarelly, sweep the floors Natarelly, massage Ryan's back Natarelly. :) But honestly, I've been a little down and those were the right words at the right time... "Bide your time, your dream will come true". Wow. I needed to hear that. I need to be more patient. Not everything happens on my time table, but it can or will happen. Thanks Disney for the spiritual enlightenment! :)

You Are Cinderella!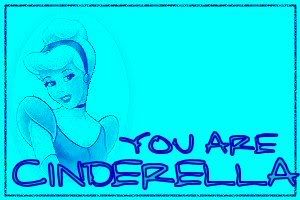 Dignified and hard working. With a gentle and soft-spoken manner you have something many people don't. Patience. Even through the moments of heartbreak you're still able to hold onto all of your hopes and dreams. Bide your time; your dream will come true.
Which Disney Princess Are You?